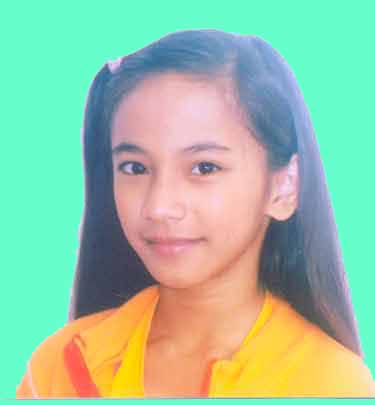 Hello Friend!
My name is RACHEL ANN M. PEGASON. You can call me Rachel. Some of my friends call me Ann.
I was born last November 30, 1993 in Manila, Philippines already singing! My daddy is Randy Pegason and my mommy is Rose Pegason . I have a baby brother.
I'm a high school student now in the wonderful school Jocelyn V. Cacas School of Montessori.
If you know the Tagalog and Visayan dialect, we can talk directly with each other. I also speak English and Chinese. But most importantly, I know the language of the heart, music. So I guess, language will not be a barrier for us to communicate. I'm sure we can find a way to talk to each other and learn more from each other.
I live in phase 3 block 62 lot 13 Heritage Homes, Marilao, Bulacan. So if you happen to pass by our place, please visit me. God bless you!.